<![endif]-->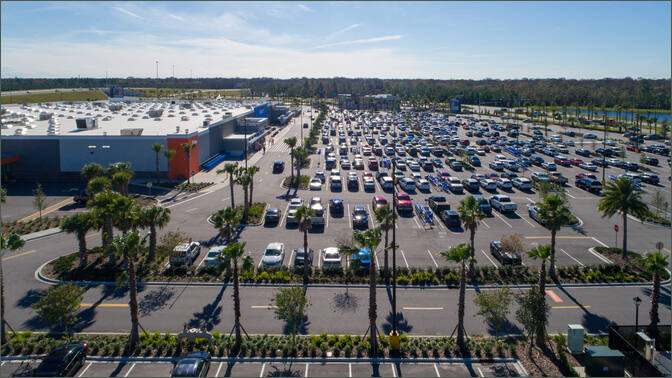 Durbin Park: The Pavilion
I-95 & SR 9B Interchange
480 Durbin Pavilion Dr.


St Johns

, FL

32259




Highlights
700,000 sf center anchored by a 12 screen luxury Cinemark Theater, Wal-Mart, and Home Depot along with a junior anchor line-up, small shops and restaurants.
Walmart and Home Depot now open. Cinemark projected opening Q1 2020.
Situated at the recently completed SR 9B and I-95 interchange, the highly anticipated new access between Duval and St Johns counties.
The annual population growth rate within a five mile radius is 3.28%.
Approximately 44,000 new residential units are proposed/under construction within five miles.
Location
New 700,000 SF shopping center located at the new interchange of SR 9B connecting Race Track Rd. and I-95 in the high growth trade area of St. Johns County, FL.
Demographics
| | 5 Miles | 10 Miles | JAX MSA |
| --- | --- | --- | --- |
| Population | 54,600 | 220,330 | 1,448,558 |
| Daytime Population | 17,068 | 89,704 | 722,326 |
| Households | 22,254 | 95,327 | 0 |
| Avg HH Income ($) | 107,935 | 99,126 | 73,327 |
| Med HH Income ($) | 88,039 | 76,692 | 53,133 |
| Median Age | 37 | 38 | 38 |
Highlights
For Lease
County: St Johns
Type: Retail - Power
Total SF: 700,000
Max Contiguous SF: 7,500
Min Divisible SF: 1,200
Acres: 80.00
Year Built: 2017
Metro Area: St Johns

The Shopping Center Group
Stephanie McCullough
The Shopping Center Group 1301 Riverplace Blvd Suite 2410
Jacksonville, Florida 32207
p. (904) 899-0449
c. (904) 446-2096

Kelly A. Pulignano
The Shopping Center Group 1301 Riverplace Blvd Suite 2410
Jacksonville, FL 32207
p. 904-565-2635

Printable Version
Durbin Park - Flyer
Durbin Park: The Pavilion
| | |
| --- | --- |
| Available | Coming Available |
Available Spaces
A101
2,800 SF
A102
1,200 SF
A103
1,200 SF
A104
1,200 SF
B107
1,300 SF
C104
1,400 SF
C105
2,100 SF
D101
2,400 SF
D103
4,000 SF
F104
2,800 SF
G106
1,870 SF
J101
1,620 SF
J102
1,300 SF
J103
1,300 SF
J104
2,210 SF
JR108
3,900 SF
K102
1,420 SF
K103
1,821 SF
L101
2,000 SF
L102
1,300 SF
L103
2,600 SF
L104
1,400 SF
REST. 4
5,000 SF
REST2
6,000 SF
REST 5
5,000 SF
| | | |
| --- | --- | --- |
| A105 | Lee Nails | 2,800 SF |
| A106 | TROPICAL SMOOTHIE | 1,700 SF |
| B10 | CLEANERS | 1,200 SF |
| B101 | CARE SPOT | 3,400 SF |
| B104 | Salsa's Mexican Restaurant | 4,800 SF |
| B109 | Hand & Stone Massage & Facial Spa | 2,400 SF |
| B111 | Great Clips | 1,050 SF |
| B112 | HEARTLAND DENTAL | 3,600 SF |
| C101 | YOUR PIE | 2,400 SF |
| C103 | Sprint PCS | 1,470 SF |
| E101 | Mattress Firm | 3,600 SF |
| E103 | Club Pilates | 1,600 SF |
| E104 | Peterbrooke Chocolatier | 1,396 SF |
| E106 | KEKE'S | 4,400 SF |
| F101 | JANA STEAKHOUSE | 4,950 SF |
| F103 | FIREHOUSE SUBS | 1,600 SF |
| F106 | TMobile | 4,000 SF |
| G101 | BAPTIST HEALTH | 5,000 SF |
| G104 | Sport Clips | 1,500 SF |
| G105 | Thrive | 1,870 SF |
| G107 | Smoothie King | 1,400 SF |
| H101 | AT&T Wireless | 1,800 SF |
| H102 | Great American Cookie Co | 1,420 SF |
| H103 | Hair Cuttery | 1,200 SF |
| H104 | Kazu Sushi | 2,000 SF |
| H105 | Starbucks Coffee | 2,250 SF |
| HD | The Home Depot | 136,068 SF |
| JR101 | Petco | 18,000 SF |
| JR102 | Dollar Tree | 10,000 SF |
| JR103 | Five Below | 8,204 SF |
| JR104 | Ross Dress for Less | 22,000 SF |
| JR105 | Burlington Coat Factory | 35,000 SF |
| JR106 | Old Navy | 12,500 SF |
| JR107 | Ulta | 10,790 SF |
| JR201 | Cinemark | 44,100 SF |
| K101 | Bonchon | 2,800 SF |
| OUT7 | Chase Bank | 3,470 SF |
| OUT8 | Discount Tire | 7,000 SF |
| OUT11 | GATE EXPRESS | 2,000 SF |
| OUT13 | GATE | 3,000 SF |
| OUT14 | Verizon Wireless | 3,000 SF |
| REST1 | Mellow Mushroom | 4,800 SF |
| WM | Walmart | 200,971 SF |
Durbin Park: The Pavilion
Durbin Park: The Pavilion